Our herbal medicine services
Herbal medicine has been around for millennia and has been used to treat all medical and health complaints over the course of history. Today, as we have evolved so has medicine and for this reason plant-based medicine is not as popular as it once was, but it is still very relevant to health and longevity. Herbal medicine has also evolved over the years, and we now have many different types of herbal medicine that we can use. If you're unsure what plant based medicine is we have a page dedicated to helping your understand here.
Your consultation
A typical herbal consultation lasts around 90 mins for your first one and subsequent appointments last around 30 mins.
During your initial consultation we will discuss every aspect of your health and wellbeing. This ensures we get the deepest understanding of your life possible. For some this can be quite intense and if you need a break at any point we can pause.
For face-to-face appointments we will always offer you a cuppa to help you feel at home as we delve deep into everything about you.
During your consultation you'll be asked what kinds of medicine you would like as we can provide many to suit different people and budgets. Take a look at our herbal medicine pricing page for more information as you'll pay of the herbs separately.
After your consultation Martin will come up with a treatment plan and dispense your medicines. And he'll let you know via text when its ready to collect or post it out. The dispensing step usually takes 24 hours but sometimes a little longer depending on stock availability and complexity.
Due to the way the advertising laws work for health in this country we're not allowed to tell you what we can treat. This is to protect you and to help prevent huge corporations from benefiting off your ill health. However, if you're interested the NIMH page has some great resources on how herbal medicine can help, alternatively give Martin a call (07856291052) and he can answer any questions you might have.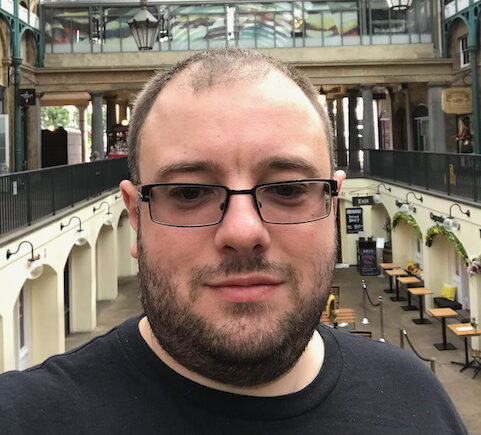 Meet our Consultant Herbalist
Martin Eddy MNIMH has a BSc (Hons) in Herbal Medicine from The University of Lincoln and has over a decade of experience working as a Pharmacy Technician in the NHS.
Our Herbalist is members of:
As a member of the National Institute of Medical Herbalists (NIMH) our herbalist is degree trained from the University of Lincoln and has over a decade of experience working in an acute NHS pharmacy as a technician.
What is Herbal Medicine?
Herbal medicine is a treatment option for those with Physical, Mental, and Emotional disharmonies. Illness can come in many forms and natures abundance can help us tame the illnesses and can help to improve quality of life. Herbal medicine comes in many forms from tinctures, which are alcohol extractions, to teas and powders.
As Medical Herbalists we leave no stone unturned when we consult with a client. As we believe in getting to the root cause of any disharmony or illness. A typical consultation will last around 90mins for your first one and 40-45mins for a follow up.
Your Remote Herbal Medicine appointment
In your first appointment the process will be explained to you and we will then enter a discussion about your health and lifestyle. If your appointment is online, we ask that you find yourself a comfortable and private space that you can relax in during the consultation. When consulting online we recommend you make your favourite brew before and you can sip and chat with one of the team at ease. This will help calm any first appointment nerves and help you unwind. We want your experience to have the minimal amount of stress possible.
If at any point during the consultation you need to take a moment to gather yourself together just speak up and we will happily pause the consultation for a moment or two.
What happens after your Herbal Medicine Appointment?
After each appointment we will dispense your prescription and let you know when its ready to collect or posted out. Depending on the treatment length it is normal for a follow up appointment 4 weeks later.
Follow up appointments are designed to check your treatment process and we will discuss the area's that were highlighted in previous consultations. We allocate around 45mins per appointment but some of these can be over sooner, especially If your treatment is going well.
Frequently asked questions
Why should I see a Consultant Herbalist?
There are several reasons why seeing a herbalist is better than taking herbal remedies. Many supplements that you can buy in health food shops are often filled with fillers and unnecessary bulking agents. This greatly impacts the quality and quantity of the plant material.  As a Consultant Herbalist we have access to many herbs that are not available in health food shops. This is due to the nature of our training and herbal suppliers. The suppliers we use require proof of qualification (BSc Herbal Medicine) before we can open an account with them. This is due to many herbal interactions with your normal medicines from your doctor. As a Consultant Herbalist it is my job to make sure these interactions are safe, minimal, and that you're aware of them should no alternate be available.
Buying supplements can be cheaper but with the poor quality and lower concentration of herbal medicine inside its better for you to book in and get the right herbs for you.
Can I take regular medicine with my herbal medicine?
Absolutely! it is our job to make sure all the herbs are safe and don't interact with your regular medicine. We do ask that if you start a new medicine you let your GP know that you're also taking herbal medicine. If you don't feel comfortable about this contact our herbalist and they will look into it for you. As we are not registered Doctors we are not allowed to advise on any medications prescribed by your GP, Consultant, or Nurse Practitioner.
Can I take Supplements?
As with regular medicines it is our job to make sure they don't interact. If there is a particular herbal medicine that we would like to give you and it interacts with a supplement we will arrange a brief call with you and explain.
Can herbal medicines be taken during pregnancy?
Unfortunately, there is a lack of clinical data to advise the use of herbs during pregnancy. We would ask that you stop taking any herbal medicines if you become pregnant and call us for advice.
Are there any side effects?
We cannot guarantee there are no side effects, but we do our best to choose the right herbs for you! If you find that there are any just pop us a message and we will investigate this for you and on your next order, try to minimise this.
Book your appointment today